"Happy Rackspace Anniversary!" What anniversary are we talking about?
I opened the email and noticed that it was sent via em-iadsm5-151.mktomail.com. I didn't know Rackspace started using thrid-party marketing tools. Is this email legit?
I noticed this line in the email header: "Reply-to: noreply@rackspace.com". Paradoxical! The reply-to address is one that starts with "noreply@…". That was quite funny!
Did anyone else receive this email?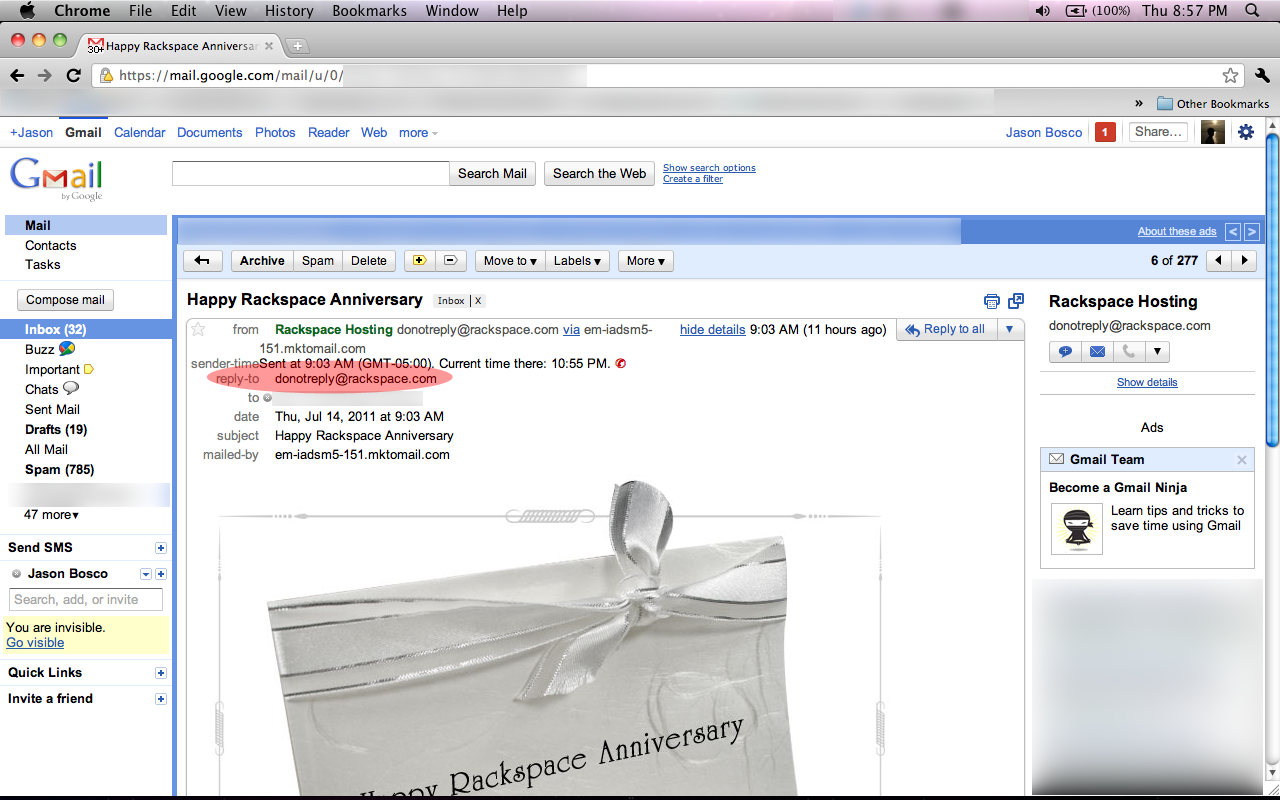 Delivered-To: *********
Received: by 10.204.122.77 with SMTP id k13cs28003bkr;
        Thu, 14 Jul 2011 09:03:19 -0700 (PDT)
Received: by 10.52.98.34 with SMTP id ef2mr2518486vdb.293.1310659393639;
        Thu, 14 Jul 2011 09:03:13 -0700 (PDT)
Return-Path: <mail409@em-iadsm5-151.mktomail.com>
Received: from em-iadsm5-52.mktomail.com (em-iadsm5-52.mktomail.com [199.15.214.52])
        by mx.google.com with ESMTP id et10si236887vbb.80.2011.07.14.09.03.13;
        Thu, 14 Jul 2011 09:03:13 -0700 (PDT)
Received-SPF: pass (google.com: domain of mail409@em-iadsm5-151.mktomail.com designates 199.15.214.52 as permitted sender) client-ip=199.15.214.52;
Authentication-Results: mx.google.com; spf=pass (google.com: domain of mail409@em-iadsm5-151.mktomail.com designates 199.15.214.52 as permitted sender) smtp.mail=mail409@em-iadsm5-151.mktomail.com
Received: from mktomail.com ([172.23.11.140])
        by em-iadsm5-52.mktomail.com (StrongMail Enterprise 4.1.1.6(4.1.1.6-56715)); Thu, 14 Jul 2011 11:03:00 -0500
X-VirtualServer: vsg-iadsm5-151, em-iadsm5-52.mktomail.com, 172.23.11.52
X-VirtualServerGroup: vsg-iadsm5-151
X-MailingID: 1298824871::rackspaceBetacust-3664-15407-0-4707-prod-3954::3954::0::7717234::25550
X-SMHeaderMap: mid="X-MailingID"
X-Destination-ID: ****
X-SMFBL: amFzb24uYm9zY29AZ21haWwuY29t
Content-Transfer-Encoding: 7bit
Content-Type: multipart/alternative;
        boundary="----=_NextPart_001_AEA6_74B0DC51.19495CFF"
X-Report-Abuse: Please report abuse here: http://www.marketo.com/policy
Reply-To: donotreply@rackspace.com
MIME-Version: 1.0
Message-ID: <1298824871.25550@rackspace.com>
Subject: Happy Rackspace Anniversary
Date: Thu, 14 Jul 2011 11:03:00 -0500
To: *****
From: "Rackspace Hosting" <donotreply@rackspace.com>


------=_NextPart_001_AEA6_74B0DC51.19495CFF
Content-Type: text/plain;
        charset="UTF-8"
Content-Transfer-Encoding: 7bit
Content-Disposition: inline

Happy Rackspace Anniversary!

Thank you for the opportunity to Fanatically Support you and your business.

If you no longer wish to receive these emails, go to the following link to unsubscribe: http://go.rackspace.com/unsubscribe.html.


------=_NextPart_001_AEA6_74B0DC51.19495CFF
Content-Type: text/html;
        charset="UTF-8"
Content-Transfer-Encoding: 7bit
Content-Disposition: inline

<html xmlns="http://www.w3.org/1999/xhtml">
<head>
<meta http-equiv="Content-Type" content="text/html; charset=UTF-8" />
<title>Anniversary</title>
<style type="text/css">
body,td,th {
        font-family: Georgia, "Times New Roman", Times, serif;
        font-style: italic;
}
</style>
</head>

<body>
<table width="700" border="0" cellspacing="0" cellpadding="0">
  <tr>
    <td><img src="http://c3206172.r72.cf0.rackcdn.com/anni.jpg" width="700" height="471" /></td>
  </tr>
  <tr>
    <td height="62"><table width="600" border="0" align="center" cellpadding="5" cellspacing="0">
      <tr>
        <td align="center" valign="middle">Thank you for the opportunity to<br />
          Fanatically Support you and your business.</td>
      </tr>
    </table></td>
  </tr>
  <tr>
    <td><table width="600" border="0" align="center" cellpadding="0" cellspacing="0">
      <tr>
        <td align="center" valign="middle"><img src="http://c3206172.r72.cf0.rackcdn.com/stamp.jpg" width="328" height="173" /></td>
      </tr>
    </table></td>
  </tr>
</table>

<IMG SRC="http://mkto-h0039.com/track?enid=bWFpbGluZ2lkPXJhY2tzcGFjZUJldGFjdXN0LTM2NjQtMTU0MDctMC00NzA3LXByb2QtMzk1NCZtZXNzYWdlaWQ9MCZkYXRhYmFzZWlkPTM5NTQmdHlwZT1vcGVuJnNlcmlhbD0xMjk4ODI0ODcxJmVtYWlsaWQ9amFzb24uYm9zY29AZ21haWwuY29tJnVzZXJpZD03NzE3MjM0JmV4dHJhPSYmJg==" WIDTH="1" HEIGHT="1" BORDER="0" />

<p><font face="Verdana" size="1">If you no longer wish to receive these emails, click on the following link: Unsubscribe<br/> </font> </p>
</body>
</html>

------=_NextPart_001_AEA6_74B0DC51.19495CFF--